Top 5 Buzzed-About Young American Opera Composers
Jun 18, 2015
All under 40 and with exciting new works on the way, these five opera composers are forging the future of opera in the United States and beyond.
1. Matthew Aucoin
Labeled by the New York Times Magazine as "Opera's Great 25-Year-Old Hope," Aucoin is facing high expectations around his work. The composer/lyricist/conductor/stage director has already been favorably compared to Richard Wagner. However, the millennial has proven more prolific than his German predecessor. Aucoin premiered his opera based on Walt Whitman, Crossing, in Boston last month; the debut of Second Nature, commissioned by the Lyric Opera in Chicago, is scheduled for August; and he's currently working on a project as part of the Metropolitan Opera and Lincoln Center Theater commissioning program. In the meantime, he's honing his conducting craft as an apprentice of Riccardo Muti at the Chicago Symphony Orchestra.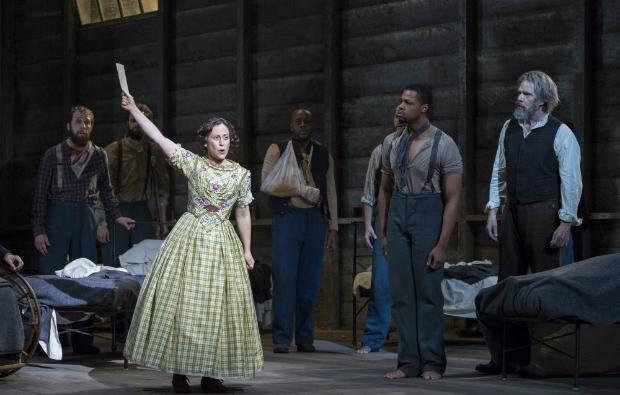 Matthew Aucoin's 'Crossing' with David Kravitz, Jennifer Zetlan, Jorell Williams, Davone Tines, and Rod Gilfry
(Gretjen Helene Photography)
2. Nico Muhly
Perhaps the best-known composer of his generation, Muhly, 33, has produced a seemingly endless stream of music over his short career, and that includes a pair of warmly received operas. His first, Two Boys, marked an auspicious entrance onto the opera stage with a premiere at the English National Opera in 2011 before arriving at the Met in. His second opera, Dark Sisters, was a commission from Gotham Chamber Opera and the Opera Company of Philadelphia. The New York–based composer seems to be on a roll, especially after receiving another joint commission from the ENO and the Met to produce a work based on Alfred Hitchcock's Marnie. It will be unveiled in London in 2017 before heading to New York for the 2019-20 season.
→ Read the Operavore Review of the Two Boys Premiere
Below watch a preview performance taped for Q2 Music at Le Poisson Rouge:
http://www.npr.org/event/music/182267405/live-from-lpr-an-evening-with-nico-muhly-and-friends
3. Anna Clyne
The British-born, Brooklyn-based composer Clyne has been fully embraced by her adopted country, having received awards from practically every national arts and music organization in the U.S., and working with ensembles such as the American Composers Orchestra. Now venturing into the operatic realm, the 35-year-old unveiled excerpts from her forthcoming opera based on the poetry of Emily Dickenson during a Composer Portrait dedicated to her Columbia University's Miller Theater. Titled As Sudden Shuts, the work was conceived as a multimedia presentation with the Quay Brothers, a pair of experimental artists and filmmakers.
Below: Cornelius Dufallo performs Clyne's "Lavender Rain" in The Greene Space at WQXR:
4. Missy Mazzoli
A darling of the new music set, Mazzoli first made a splash with her opera, Song from the Uproar. It was a centerpiece of New York City Opera's 2010 VOX new opera showcase, and premiered at the Kitchen in 2012. This season, it gets its West Coast premiere at the Los Angeles Opera. Meanwhile, Mazzoli, 34, who's since premiered two smaller operatic works, is working toward bringing the full-length Breaking the Waves to the Kimmel Center in Philadelphia in 2016. The opera, with lyrics by Royce Vavrek, is based on an eponymous Lars von Trier film.

5. Gregory Spears
Born in 1977, Spears has been quietly establishing a reputation for his ability to merge musical styles to great dramatic effect. The Wall Street Journal's Heidi Waleson lamented the all-too-short run of the 40-minute The Bricklayer when it premiered at the Houston Grand Opera in 2012. Meanwhile, Paul's Case, taken from a Willa Cather short story, was developed over several years through American Opera Projects to become the hit of the 2014 Prototype Festival. Next up for Spears is this season's presentation of O Columbia, a chamber opera/oratorio commissioned by Houston Grand Opera, which examines the legacy of exploration in the United States.
Originally published at: http://www.wqxr.org/#!/story/top-5-buzzed-about-young-american-opera-composers/